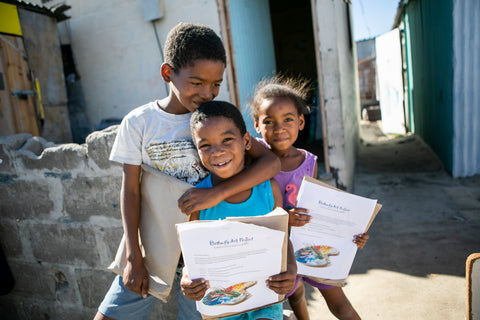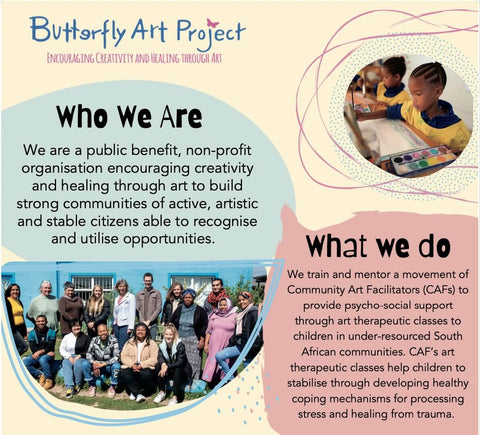 Butterfly Art Project
The Butterfly Art Project (BAP) is a nonprofit organization that promotes creativity and healing through art to build strong communities of active, artistic, and resilient citizens who are empowered to recognize and seize opportunity.
BAP trains and supports Community Art Facilitators (CAFs) to bring art therapy classes to children in underserved communities such as the Western Cape, Gauteng and KwaZulu Natal provinces.
Children in underserved communities experience higher levels of stress and are at greater risk of trauma and need help learning to manage and heal from stress.

What am I supporting with my contribution?
1. Art Center Vrygrond (ACV)
At our arts center in Vrygrond (community opposite Marina De Gama in Muizenberg, Cape Town) we try them all
our art therapy methods and offer internships for newly trained CAFs.
2. CAF Training and Mentoring Programs
All BAP training courses and support are free of charge. In order to "pay" for the training, CAFs must have at least 7 children
care per week. All CAFs must complete the 24-hour Early Beginnings module, work 24 hours, and a
Submit a portfolio of evidence to demonstrate their competency.
3. Art Campaign and Exhibition
Each year, an art campaign is run on a specific theme, culminating in an exhibition mid-year. At least 45 CAFs attend workshops related to the art campaign and participate in mentorships to support them in working with the children they teach to create artworks for the exhibition.
At least 300 artworks by children and 50 by CAFs will be displayed in the public exhibition. The 2022 theme is "Tests of Courage" and focuses on calming our fears so that we can face the trials we face with courage.
4. Project Cocoon
Project Cocoon was successfully piloted in 2020 to provide CAFs with the intensive training, mentoring and coaching they need to start and/or strengthen their own arts organisations.
Three of the CAFs that participated in Project Cocoon went on to have community-based arts organizations for children
founded independently of the BAP.