FAIR
NO ONE SHOULD BE EXCLUDED FROM SUSTAINABLE CONSUMPTION BECAUSE OF THEIR FINANCIAL RESOURCES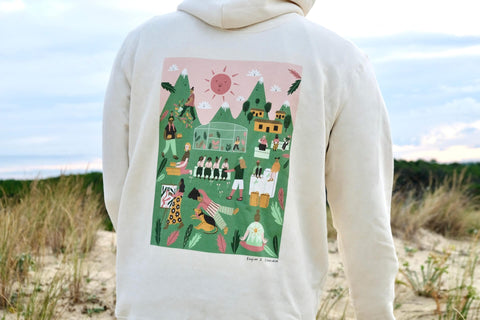 If we are honest with ourselves, sustainable & ethically produced clothing is still a luxury good that not everyone can afford.
This bothers me for 2 reasons:
1) IF WE REALLY WANT TO MAKE A DIFFERENCE IN THE WORLD, WE MUST ALL HAVE THE OPPORTUNITY TO ADAPT OUR CONSUMPTION PATTERNS.
2) NO ONE SHOULD BE EXCLUDED FROM SUSTAINABLE CONSUMPTION BECAUSE OF THEIR FINANCIAL RESOURCES.
That is why we have created the program "FAIR", which consists of 2 parts
PART 1
You can choose to support this program with an amount of your choice at checkout.
Once enough money has been raised to cover the cost of a garment, it will be given to a person eonrolled in the program.
PART 2
For people with limited financial means who nevertheless focus on sustainable consumption.
I have decided to give you the opportunity to buy our clothes at the lowest possible price.
Basic T-shirt: 20€*
Basic Oversized T-Shirt: 25€*
Basic Hoodie: 50€*
Artwork T-shirt: 25€*
Artwork Oversized T-Shirt: 30€*
Artwork Hoodie: 55€*
*excl. Shipping
How can I become part of the program?
Just send us an e-mail to fair@raeglan.com, telling us which part of the program you are applying for and which product you would like to purchase.
Please tell us your name and explain in 2-3 sentences why you would like to take advantage of the support.
If it sounds plausible, then we will either send you a discount code (part 2 of the program) or put you on the waiting list (part 1) and contact you as soon as the product is fundable.
TRUST
Please note that the whole program is based on trust.
It only works if we are all honest with ourselves and act accordingly.
I try to act as transparently as possible and provide you with as much information as possible.
Please do not exploit this program as otherwise no one can benefit.