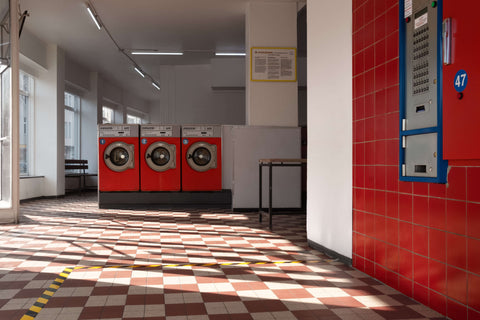 1. How often should I actually wash?
We are now used to throwing our clothes, especially t-shirts, straight into the wash after wearing them. But does it really have to be? (except underwear of course)
Just try to be aware that each wash uses electricity, wears out your clothes and, if it's synthetic fibers, releases microplastics.
For example, when I travel, I wash a lot less, even though I'm usually more active. Simply because it is more complicated on the way. Does that mean I only walk around in dirty, smelly clothes? Maybe - but at least nobody has complained so far ;)
That's why I try to be more aware of the topic when I'm at home. So if your garment doesn't smell super fresh anymore, you might just air it out a bit instead of putting it straight into the washing machine.
Depending on the size of the stain, it makes more sense to treat the stain briefly than to wash the entire garment straight away.
2. Always follow the care instructions
Even if our products are designed to give you pleasure for as long as possible, it is of course still important that you take good care of them.
1. Wash at 30 degrees. This keeps your garment in shape and the print lasts a particularly long time
2. Always turn your garment inside out before washing. This significantly increases the durability of the print.
3. It is best to do without fabric softener and just use normal (ideally environmentally friendly) detergent.
4. Skip the dryer. High temperatures and spin speeds damage the fibers of your clothes. It is therefore best to simply dry your clothes in the fresh air. This protects the environment and your wallet at the same time ;)
5. It is best to avoid ironing. If you do, turn your garment inside out first. Otherwise you will directly attack the print with the heat and thus reduce the durability.
If you shake your garment out vigorously immediately after washing and then hang it up to dry, all the creases will usually have disappeared and you won't have to worry about ironing anymore.