Oekotex 100: Was sagt das Zertifikat aus?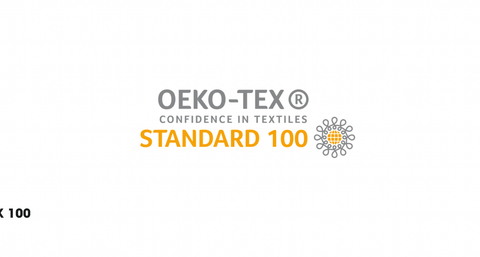 Was ist das Oekotex 100 Zertifikat?
The OEKO-TEX® Standard 100 is an independent testing and certification system for textile raw, intermediate and end products. If an article has this seal, this means that none of the components of the article contain any harmful substances and the product is harmless to health.
However, the test for harmful substances is only carried out on the finished product. In contrast to GOTS, the entire production chain is not considered. Social factors also play no role for the Oeko Tex seal.
This problem is particularly evident with conventional cotton. This consists largely of genetically modified varieties, which are treated with many pesticides during harvest and with chemicals during subsequent processing. Due to the subsequent cleaning processes, however, the finished product has a very low proportion of harmful substances, which meets the Oeko Tex criteria. Any child labor and air and soil pollution are also not included in the assessment.
The designation "Oeko" can also be somewhat misleading, since it does not have to be an ecologically (biologically) manufactured product.
Was sind die Vorteile von Oekotex 100?
Durch die Prüfung auf Schadstoffe wird eine hohe Sicherheit für Verbraucher gewährleistet. Außerdem leistet Oekotex 100 einen Beitrag zum Umweltschutz, da schädliche Chemikalien vermieden werden.
GOTS vs. Oekotex 100: Was ist besser?
Allerdings erfolgt die Schadstoffprüfung nur am fertigen Produkt. Anders als bei GOTS wird also nicht die gesamte Herstellungskette betrachtet. Auch soziale Faktoren spielen für das Oeko Tex Siegel keine Rolle.
Besonders deutlich wird dieses Problem bei herkömmlicher Baumwolle. Diese besteht zum größtenteils aus genmanipulierten Sorten, welche bei der Ernte mit vielen Pestiziden und bei der anschließenden Verarbeitung mit Chemikalien behandelt wird. Durch die anschließenden Reinigungsvorgänge gibt es beim fertigen Produkt allerdings einen sehr geringen Schadstoffanteil, welcher den Oeko Tex Kriterien standhält. Etwaige Kinderarbeit, sowie Luft- und Bodenverschmutzungen fließen in die Bewertung ebenfalls nicht mit ein.
Auch die Bezeichnung "Oeko" kann etwas irreführend wirken, da es sich nicht um ökologisch (biologisch) hergestellte Produkte handeln muss.
Grundsätzlich lässt sich nicht sagen, welche Zertifizierung besser ist, da es auf die individuellen Anforderungen ankommt. Wer besonders viel Wert auf ökologische Aspekte legt, ist bei GOTS gut aufgehoben. Wer zusätzlich auf die Prüfung von Schadstoffen achten möchte, ist mit Oekotex 100 besser beraten.