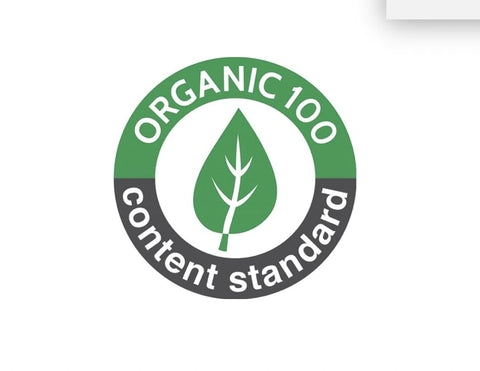 Organic Content Standard 100 (OCS 100)
The Organic Content Standard 100 (OCS 100) and the Organic Content Standard blended (OCS blended) enable companies to record the proportion of organic material in textiles and pursue the goal of increasing production in organic farming.
Another goal is to prevent greenwashing by requiring certification of all goods along the entire value chain.
Pay attention to the distinction between OCS 100 (95-100% natural fiber content) and OCS blended (at least 5% natural fiber content).
In comparison to the GOTS certificate, for example, the ecological effects of production and the social working conditions are not taken into account, but the focus is on the organically grown materials.
Organic Content Standard 100 (OCS) - Was bedeutet OCS Qualität?
Die OCS-Qualität stellt sicher, dass biologisch angebaute Rohstoffe ohne den Einsatz von Pestiziden oder chemischen Düngemitteln produziert werden. Die OCS-Zertifizierung hilft Verbrauchern, die Umweltauswirkungen von Kleidungsstücken zu reduzieren, da sie auf nachhaltige und ethische Kleidungsstücke zurückgreifen können.
Was ist der Unterschied zwischen GOTS und OCS?
Der Organic Content Standard (OCS) und der Global Organic Textile Standard (GOTS) sind beide Standards für nachhaltige Textilproduktion. Der Hauptunterschied zwischen den beiden Standards besteht darin, dass GOTS auch soziale Kriterien für Arbeitsbedingungen umfasst, während OCS sich ausschließlich auf die Rohstoffe konzentriert.
GOTS geht also weiter als der OCS, indem er nicht nur die Rohstoffe prüft, sondern auch die Arbeitsbedingungen in der Produktion. GOTS setzt voraus, dass die Arbeitsbedingungen fair sind und dass die Arbeiter angemessene Löhne und Arbeitszeiten erhalten. Auf der anderen Seite konzentriert sich der OCS auf die biologische Herkunft der Rohstoffe und gibt keine Vorschriften für soziale Aspekte vor.