Rays of Hope Hoodie
VAT-exempt according to § 19 UStG,
Free Shipping
Pickup currently unavailable
85% certified organic cotton
15% recycled polyester
(what that means)
Fabric weight 350 g/m²
Fairly & sustainably manufactured
( Our production)
Will be produced especially for you after ordering
Regular Fit
With your purchase you support needy children and families in Alexandra Township in the north of Johannesburg.
These people are exposed to a lot of grief, trauma and stress and receive physical, emotional, spiritual and social support to be able to improve their lives on their own.
price transparency
To ensure full transparency, I would like to show you what the price of the garment is made up of.

This way you can make a conscious purchase decision.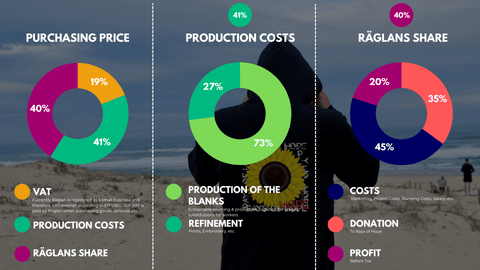 favorite sweater
Beautiful, soft sweater.
My new favorite sweater, which is great to wear, lined with a terrific fabric!
I love the sunflower print it keeps reminding me of the organization being supported
I love my hoodie <3
I'm always wearing this hoodie. i love it It's super cozy, soft and keeps me warm. I really like the sunflower print too.
Best black hoodie!
Love the print from the back, the material is super soft and cozy.